News
Posted by Phil Shames on
In long-term care homes, providing a safe and comfortable environment for residents is of utmost importance. Among the various factors contributing to residents' well-being, indoor air quality plays a significant role. Airborne contaminants, including odors and dangerous microbes, can have adverse effects on the health and overall quality of life for those residing in these facilities. In this blog post, we will explore the importance of air purification in long-term care homes, with a particular emphasis on the need to reduce odors and eliminate dangerous airborne microbes. Odor Reduction: Odors in long-term care homes can arise from various sources, including...
Posted by Phil Shames on
Wild Fire smoke is speading across Canada and it is making breathing difficult for people with asthma, COPD, and heart disease. - The GreenTech Environmental PureAir 3000 Air Purifier is a revolutionary solution for those who are struggling with breathing difficulties caused by wild fire smoke. With the increasing prevalence of wildfires, it has become crucial to find effective ways to combat the harmful effects of smoke on our respiratory health. The PureAir 3000 utilizes 4 advanced air purification technologie including ARC PCO (Photocatalytic Oxidation) technology to effectively remove smoke particles and other pollutants from the air. This technology works...
Posted by Phil Shames on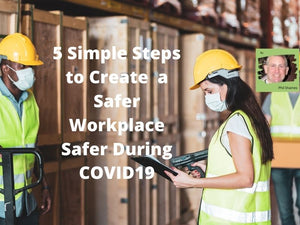 Nothing will shut your business down faster these days than an outbreak of COVID19. How can you reduce the risk to your staff, guests, and income? According to Health Canada, SARS-CoV-2, the virus that causes COVID19 is spread thought respiratory droplets. Here are 5 ways you can reduce the chance of those respiratory droplets infecting you, your staff, and your visitors: 1 – It has been said many, many times, but it is worth repeating again. Make sure everyone entering your workplace, and everyone working in your space is wearing a face mask. With the new variants now here, there...
Posted by Phil Shames on
March 10, 2021 Originally posted at Greentechenv.com January 2021 Testing shows proprietary Active Radiant Catalysis (ARC®) technology is an effective preventative measure for office buildings, schools, and fitness facilities. The proof is in the purification! GreenTech Environmental (products available at Cleanworld.ca) is excited to share the latest round of laboratory testing results for its proprietary ARC® technology.   The test results confirm, by replicating nature's purification process, ARC pureAir HVAC technology actively reduces risk of exposure to air and surface bacteria.  By implementing safe and effective ARC HVAC technologies, commercial and municipal operations can provide an additional layer of protection for students, customers, and employees increasing...
Posted by Phil Shames on
"Using advanced technologies including 
active radiant catalysis (ARC)
, activated oxygen, and ionization, these air purifiers will help us combat bacteria, viruses, odors, pollen, mold, allergens, and dust in our schools," stated Gonzalez. "We view this implementation as an additional step in helping keep our students, staff, and community healthy and safe."
---